Family Self Sufficiency
Take one step closer to providing the future you want for your family
About the Program
The FSS Program is a five-year, self-paced, voluntary program designed to assist Housing Choice Voucher participants achieve economic independence. Participation requires a personal commitment by each individual to develop goals that will lead to self-sufficiency. In exchange, participants will receive supportive services and the opportunity to earn an escrow savings account.
These goals may include
Education
Specialized Training
Job Readiness and Job Placement Activities
Career Advancement Objectives
Mentoring
Budget/Credit Repair
Home Buyer Education
Goals for each participating family member are set in individual training and services plans attached to the FSS participation contract
Escrow Account
The incentive of the FSS Program is a special escrow account that is set up for each participant. As the participant's earned income goes up, the rental subsidy remains the same, with the remaining money deposited monthly into a savings account. This account belongs to the participant and is disbursed upon graduation from the program. While participating, families may borrow from their savings account once per year to help meet the needs of their personalized goals. Each graduate decides how this money can best serve the future of their family.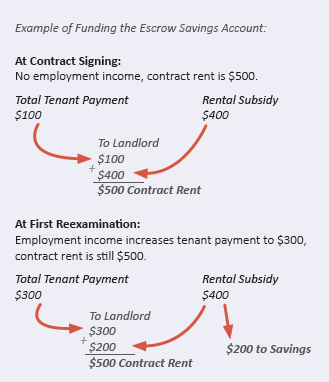 Requirements
Participants must:
Seek and maintain suitable employment. Must be employed six months prior to the expiration of the contract and be Welfare free of cash benefits for one year prior to the expiration of the FSS contract.
Be the head of household and have the willingness and ability to meet program requirements.
Work closely with a case manager to develop and carry out personal goals individualized by the participant.
If you would like additional information please call 361-6210 ext. 261 for Ken Waters or ext 252 for Michelle Bailey.